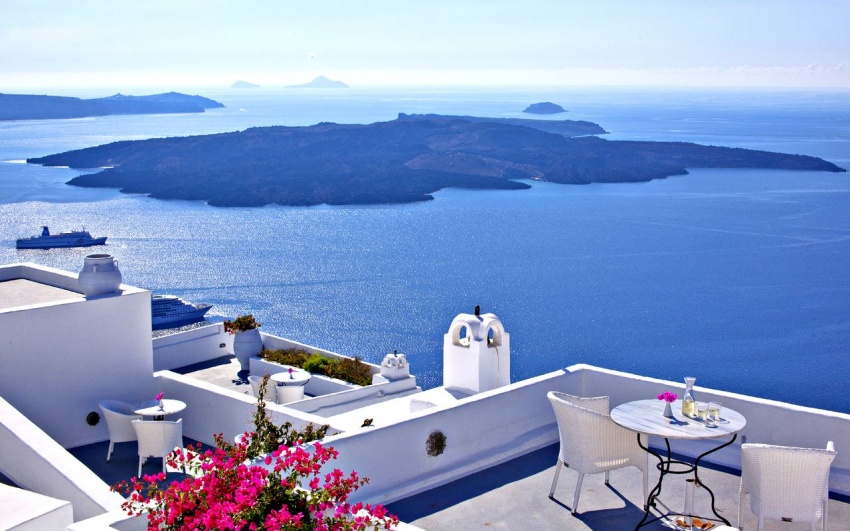 In General
Greece has a Mediterranean climate with plenty of sunshine, mild temperatures and a limited amount of rainfall. The weather is fairly uniform throughout the mainland and the Greek islands.

Due to the country's geographical position, its rugged relief and its distribution between the mainland and the sea, there is great variation in Greece's climate, with mild winters and warm summers, cooled by different kind of seasonal winds. However Greece is perfect for those who enjoy the sun, as for over two thirds of the year the country basks under clear, sunny skies.
Winter
Winters are mild and rainy, with temperatures sometimes dropping to freezing point, especially in the north, and snow covering the highest mountains.
Summer
The summers are characterized by sunshine and very little rainfall. The dry hot days are cooled by seasonal winds called the meltemi, a strong northerly wind that sweeps the eastern coast of mainland Greece and the Aegean islands, while mountainous regions have generally lower temperatures.
Amazing temperatures and successful rain-free holidays are guaranteed in Greece, for most part of the year!
Specifically
Northern Macedonia and the northern part of Epiros have a climate similar to the Balkans, with freezing winters and very hot, humid summers. Attica's peninsula, the Southern Aegean Islands and the central and eastern Peloponnese have a typically Mediterranean climate with hot, dry summers and milder winters.
May till June and September till October is an ideal time to visit Greece. The weather is perfect, still warm, but not unbearably hot. The children are in school so its quieter. The historical sites are less crowded as well cause most tourists have gone to work again.
What's the best time to travel to Greece? Here are some facts:
The months May, June, September and October have a nice average temperature.
Hot season / summer is in June, July, August and September.
Greece has dry periods in April, May, June, July, August and September.
On average, the warmest month is July.
On average, the coolest month is January.
December is the wettest month.
July is the driest month.
AVERAGE MONTHLY HOURS OF SUNSHINE OVER THE YEAR
AVERAGE MINIMUM AND MAXIMUM TEMPERATURE OVER THE YEAR
AVERAGE WATER TEMPERATURE OVER THE YEAR (in Celsius)
AVERAGE MONTHLY PRECIPITATION OVER THE YEAR (Rainfall, Snow)
AVERAGE MONTHLY RAINY DAYS OVER THE YEAR
AVERAGE HUMIDITY OVER THE YEAR
AVERAGE WIND SPEED OVER THE YEAR